Starting a Coffee Drive-thru Business
A Definitive Guide to Opening a Specialty Coffee Drive-Thru
By Ed Arvidson
(319 page E-Book)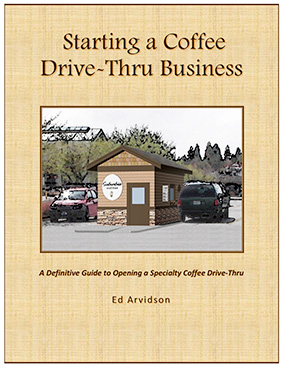 Chapters:
What will it cost?
How much capital can you raise?
Developing a business plan
Obtaining your financing
Finding a great location
Contacting and convincing the property manager, and negotiating a good lease
Obtaining bureaucratic approval
Buy or build your drive-thru structure?

Your menu: What will you be serving?
Selecting your equipment
Selecting the right contractor
Construction process / preparing to open
Hiring & training employees
Making espresso, coffee & beverages
Opening for business
Getting profitable
What people are saying about
"Starting a Coffee Drive-Thru Business"
"Starting a Coffee Drive-Thru Business is a comprehensive and exhaustive look into every detail associated with starting a Drive-Thru business. I am in the process of planning for my Drive-Thru business and found this book to be a great roadmap for success. The book is a great investment for anyone looking seriously into starting a Coffee Drive-Thru business or achieving profitability with a current one. I will be using it as a resource from now until the day I open, and beyond!"

Andrew Richardson
"My team and I spent 3-months collecting information about Coffee Drive-Thrus. We had many books and web pages in hand, but when I read Ed Arvidson's book, I regretted the time I wasted with the other resources. This book has everything I was looking for. It targets the points I wanted to know about. It contains valuable and realistic information. Upon reading this book you will recognize that the author is not just a writer, but is also an expert in this business. In short, save your money and time and read this book!"

Sultan Alshehri
"My Family and I are planning to open a coffee drive thru business. Upon my extensive online research, I came across Ed Arvidson's website for his coffee business school, and his designs for drive thru buildings. I then acquired a copy of his book to help in our education in starting a drive thru business.  Within the first few pages of reading, I immediately realized the value of this tool. It laid out all the information from start to finish; what to expect, start up costs, business plan development, and the "know how's" of the business were all touched upon.  The text was clear, concise, and straight to the point. I was once told by a business plan expert, that when writing your business plan, you need to clearly express what the "meat and potatoes" of your business are.  This book clearly meets that objective.  I highly recommend this book to anyone desiring to enter the coffee shop industry.  You can definitely profit from the information, and if you're like me, wanting to ensure your company's success thorough research, hard work, and dedication, this book can guide you all the way through the process."

Sarah Tinsley
Purchase "Starting a Coffee Drive-Thru Business"
"Starting a Coffee Drive-Thru Business" is included with
"Coffee Drive-Thru Plans," but can be purchased separately here.
(This E-Book is available as a PDF download only,
and will be E-mailed to you within 2-business days of your purchase)
$39.95